Jeep Dealer Near Me

Your Jeep Cherokee & Jeep Grand Cherokee Headquarters In Inverness, FL
Jeep Dealer Near Me – These days, it seems like there's a new car dealership on every corner. You might be asking yourself, "Where can I find a reliable Jeep dealership near me?" If you want expert service, incredible customer connections, and quality vehicles sold for competitive prices, your next stop should be Plaza CDJR.
Whether you're interested in a new or used Jeep Cherokee, or you're looking for a service center for your Grand Cherokee, Plaza CDJR has the inventory and Jeep experts you need to get started! Take a look at what Plaza CDJR has to offer, and we'll guide you towards your dream Jeep model.
The Best Customer Perks In Inverness, FL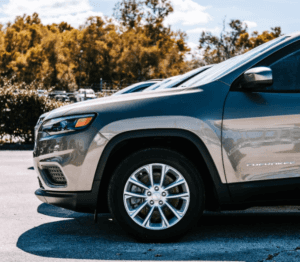 When you're wondering what makes a Jeep dealership near you truly great, consider the benefits you'll receive as a customer, completely free of charge:
Plaza CDJR does everything in our power to make sure you're comfortable and financially protected. When you buy with Plaza CDJR, you'll get a free 3-Day Satisfaction Guarantee!
If you drive away from our lot and you're not completely satisfied with your purchase, you can exchange your vehicle within 3 days. Many of our pre-owned vehicles come with a 7-year/100,000-mile limited warranty, so you don't have to worry about mechanical issues down the line. Don't forget, we have All-State's Enhanced Mechanical Protection Plan to cater specifically to your vehicle in order to protect it at all costs. Shop smart with Plaza CDJR!


Plaza CDJR Is The Best Jeep Dealership Near You, Offering The Best Service

Our expert service team is ready to tackle any issues you might encounter when enjoying your Jeep. Mechanical issues are often unpredictable, and Plaza CDJR makes sure you're supported with a loaner car whenever you need it. Our shuttle service is also completely free, so you don't have to wait at our service center. With free Wi-Fi, free refreshments, and a free car wash with every service, you won't find a more comfortable Jeep service center in the Inverness area.
Jeep Cherokee Or Grand Cherokee? You Decide!
If you can't decide between a Jeep Cherokee or Grand Cherokee, the representatives at Plaza CDJR are ready to help. We're the best Jeep dealership near you if you're looking for practical, realistic advice. While the Cherokee is the more affordable option, the Grand Cherokee can give you better gas mileage and a more classic Jeep appearance. However, the Grand Cherokee isn't nearly as compact as the Cherokee, which is classified as a small SUV with 4WD. In the end, the choice is yours–and Plaza CDJR can help you decide.
Call Today & Contact One Of The Best Jeep Dealerships Near you!
There's no better Jeep dealership in the Inverness area! We've got great deals, incredible prices, and reliable Jeep models for any driver. Our service center offers unmatched expertise, and you'll enjoy a plethora of benefits as our loyal customer. To learn more about Plaza CDJR, just give us a call!
Shop New | Shop Used | Shop CPO | Schedule Service | Contact Us